Davidson Asphalt Sealcoating & Pavement Maintenance
Toste Construction offers complete asphalt maintenance to the entire Davidson area. If you have a business or manage a property, such as an apartment complex, homeowners association, or strip mall, we have a solution for you. Chemical damage, UV rays, and inclimate weather can quickly deteriorate asphalt pavement. Having a successful maintenance program in place can more than double the life of your asphalt while costing a fraction of complete replacement.
Professional Residential & Commercial Services
Sealcoating
Asphalt is typically made up of rock and/or stone and gravel, along with a binder called asphalt cement. Over time, rain, UV rays, and chemicals will degrade the binder and break down the asphalt, which is detrimental to your parking lot. Applying a sealant will help replenish this binder and add a layer of protection from these harmful irritants. 
Crack Filling
Adding crack filling to your asphalt maintenance plan will help prevent moisture from finding its way further into your pavement. The key to effective crack filling and sealing is to repair and fill the cracks while they are small. Since crack filling slows crack growth and keeps new cracks from forming, you are also preventing pavement failure pothole formation.
Line Striping
Once your parking lot has been successfully sealcoated and cracks have been filled, you will want to replace the traffic and parking lines. Doing so will organize traffic flow and define parking areas. Water-based acrylic traffic paints are the most common type of line striping paints used today and Toste Construction offers quality line striping services in Davidson.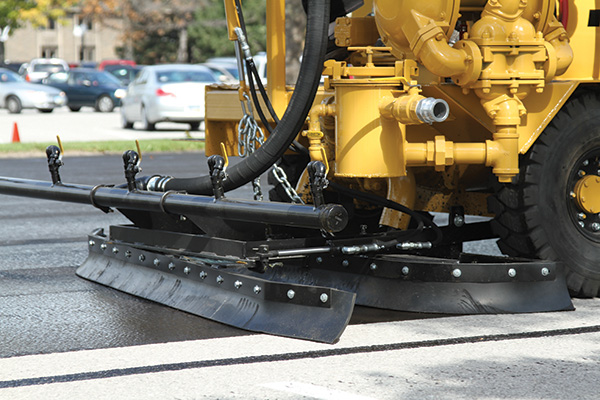 Pothole Repair
Potholes are formed when cracks are left untouched and can cause trouble for all types of traffic in your parking lot. Using hot or cold patch material, Toste Construction can create a safe area for your customers and vehicle traffic. You are also helping to avoid possible liabilities for your Davidson area business with professional pothole repair. 
Toste Construction has been serving the Davidson area since 2016 and has nearly three decades of asphalt maintenance experience. If you are looking for a trusted contractor in the Davidson, North Carolina area, contact Toste Construction today. We are available to assess your parking lot and provide you with a FREE quote for all of your pavement needs. Treat your asphalt the way it should be treated by calling us today!